AirAsia FREE SEAT Promotion 2017 is back again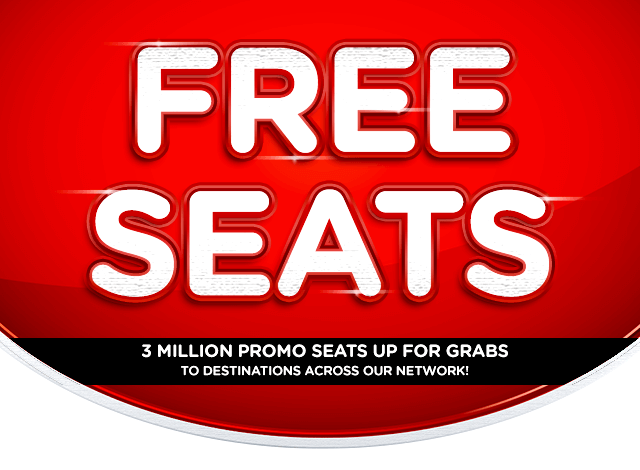 Airasia free seat promotion 2017 is back again, and so do I! Despite slower turn-ups in the recent MATTA fair and lesser demand in air tickets this year, this promotion is no doubt an encouraging boost to the market. If you are after some cheap flight fares for your travel next year, this is the best opportunity for you to grab them! Why do I say so?
Airasia free seat promotion 2017
This Airasia Free Seat promotion started since last Sunday midnight, 5th September 2016, and will end on this Sunday midnight. Booking is for flights departing in between 6th February 2017 to 28th October 2017, spanning through a 9 months period. No exception, fares are not available during embargo period. Airport and GST taxes and other miscellaneous charges are still payable, meaning that they are not actually zero cost.
As usual, the pre-sale started a day earlier for all Big Shot members. A total of 3 Million promo seats are available for booking, including all Airasia domestic and international flights, and direct and connecting flights from all major local states' airport.
Good News
Good news remained is the lift of petrol charges brought down the fares slightly for this round if compared with the last.
Since the promo started a few days ago, we see slow response from the public. Beside holidays seasons such as school holidays, promo fares are still widely available until today. This could be caused by factors include the weak Malaysian currency, down turning local economy, terrorists bomb threats all around the world, and the highly contagious Zika virus.
That said, travel addicts such as me will not to be hindered by these negative elements. This Airasia Free Seat promotion 2017 will instead an attractive opportunity not to be missed.
Free Fares but not Free Seats
Bear in mind, though, these Airasia Free Seats are not actually free. Even though flights are being offered zero (0) base fare, we still need to pay for other fees such as airport tax, GST, and others, which constitute a big chunk of your air ticket price! Additionally, we need to fork out more money for all other services, some are mandatory, such as checked-in baggage, on board meals and travel insurances. To save even more, Airasia is now offering Value Pack to include these items with some discount! To fly with some luxury, you can opt for Premium Flex tickets that include 2x Free change of date/time, 20kg baggage allowance, Xpress booking, Free Premium Seat selection, 1 complimentary meal, and Xpress boarding.
What are you waiting for? Log on to Airasia website to find out the deal! Airasia free seat promotion 2017 will not come back this year again.
Hang on! Haven't planned and holidays next year? Read this piece of advice.
** There are still other Airasia promotions available along the way during this year and earlier next year. So you don't have to book 12 months in advance just to save some pennies. Unless it is a highly popular destination but unfamiliar with you, and you need 6 months to study the nation, check for travel tips, plan your itinerary, book hotels in advance for festive seasons, or even book domestic transportation such as flights or cruise. I did that for my previous travels to Europe, Japan and Korea where there is language barrier. Happy travel! 🙂 – Travel Feeder, your travel photo blog