I've traveled to quite a few cities around the globe in the past 7 years, from Asian cities such as Tokyo, Osaka, Beijing, Phuket, Bali, Singapore, and Gold Coast, to Europe cities include London, Paris, Brussels, Amsterdam, Venice, Rome, Barcelona, Berliln and Switzerland; Also some local cities such as Penang, Langkawi, Genting Highland and Cameron Highland back in Malaysia. Having traveled to so many cities in the east, north and south, visiting Florida of USA in the farthest west is surely my next dream! As plenty of cheap flights to Florida available nowadays, planning a holiday to Florida and realizing my dream is now getting easier and faster.
I love Florida for everything: Its subtropical weather, scenic view of its lush countryside, 1200 miles of white sandy beaches, wildlife, countless theme parks, and the friendly local people! On top of that, Florida is for solo, couples, family and any types of travels! It remind me how I enjoyed my honeymoon in Gold Coast, Australia which is similar to Florida in many aspects.
Florida is the most south-eastern state in the United States of America, also known as "The Sunshine State". Today, the Sunshine State is the world capital of theme parks as there are no less than 15, including 6 Walt Disney World parks and other household names such as Universal Studios, SeaWorld and Wet n Wild.
Apart from theme parks, national parks, dense forests and swamplands teeming with the region's resident alligators are also a popular tourist sites for outdoor lovers. Holiday makers could plan for outdoor activities such as hiking, kayaking and hot-air ballooning, or even take a dip in Florida's Largest Lake, Lake Okeechobee! Wade in the shallow waters, and enjoy the beautiful southern Florida landscape and wildlife.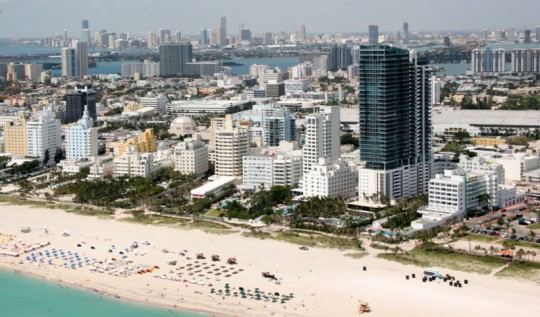 Did I mention sandy beaches? No visit to Florida would complete without dropping by Miami and its beaches. Miami Beach the coast city in Florida is world renown beach destination with all kinds of sea activities including topless sunbathing, surfing, and is one of the most popular spring break party destinations in the world. It is also home to premier shopping, dining and night clubbing.
All other travel destinations that I've been to may have their own unique attractions to certain types of travelers but none offers the same perfect combinations as Florida. I hope I can be there one day with one of those cheap flights available from my home. Until then Florida is still remained a dream travel destination in my travel wish list.

 - Travel Feeder, your ultimate travel photo blog