Travel photo gear review – Nikkor 10-24mm Ultra Wide Angle lens
I've been talking about this lens and showing too many photos taken with it since I used it for my travel 3 months ago, but I've never posted any review of this Nikkor 10-24mm Ultra wide Angle lens. Since I love it so much for travel, why not? So here is the short review of this Nikon's best ever DX format ultra wide angle lens, after using it for 3 months. This is not a review of a new product from Nikon. Nikkor 10-24mm UWA lens have been around in the market for more than 2 years now, but it is still the latest UWA lens for DX-format DSLR from Nikkor until today.
If you are looking for a Ultra Wide Angle lens for your Nikon DX-format DSLR, Nikkor 10-24mm is the best you can get, in terms of compatibility. You can rest assure of its compatibility to your Nikon DSLR since Nikkor is from Nikon itself. Some of you may argue that image sharpness, distortion and speed of focusing are more important in choosing a UWA lens, but those who have read my story on the problematic Sigma 10-20mm F3.5 UWA lens will definitely agree with me. There are sharper, less distorted and faster third-party UWA lenses around in the market, like the Sigma or Tokina, but what's the point if they can't focus accurately and reliably with my Nikon D7000?
I should extend the title of this write up further to be "My points of view towards the Nikkor 10-24mm UWA lens, as a photo hobbyist cum traveler, after a 3-month-usage".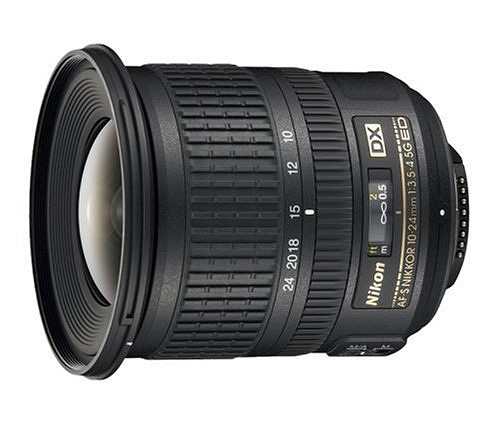 Specification Highlight of Nikkor 10-24mm f 3.5-4.5G ED AFS
A solidly built zoom lens for DX-format DSLR, Nikkor 10-24mm f/3.5-4.5G ED variable Aperture ultra wide angle lens offer an ultra wide 110° picture angle, which is ideal for travel photography to capture dramatic landscapes, landmarks, architecture such as cathedrals and castles and more. I used it to capture travel attractions from a much closer distance, just be able to be in front of huge crowds. With two ED glass and three hybrid aspherical lens elements, Nikon Super Integrated Coating (SIC) and the exclusive Nikon Silent Wave Motor, this AF-S DX NIKKOR 10-24mm f/3.5-4.5G ED lens delivers the exceptional image quality and fast handling that defines NIKKOR optics. It works with all Nikon DSLR, with or without built-in focusing motors (good news for D3100 and D5100 users).
Nikkor 10-24mm UWA lens can focus as close as 0.8 feet from the object, which adds flexibility and versatility to its usage that users could shoot some close up images with it (see the sample photos below). Similar to other latest Nikkor lensese, it also include a MA /A focus mode switch so I can overwrite the Auto Focus mechanism by simply turning the focusing ring without needing to switch to Manual Focus mode. Also the Internal Focusing (IF) design allows faster, smoother autofocusing and eliminates changes in lens barrel length for consistent handling. If you care about bogeh, eventhough UWA lens can't produce much shallow Depth-Of-Field images, this Nikkor also offer 7-blades-diaphram which can render more natural out-of-focus image appearances.
Usefulness in Travel Photography
How about its usage? If you are an avid traveler who loves to capture attractive and memorable scenes on your travel, you'll need one of this. I've been using ultra wide angle lens for more than half of my time on travel. I used my old Tamron SP10-24 for most of my photos on both of my Europe travels last 2 years. To further enhance my travel photos, I bought this Nikkor just before my trip to Beijing last year, and it rocked!
Taken with my Nikon D7000 attached with Tamron SP10-24mm UWA lens, on my travel to Switzerland.
Taken with my Nikon D7000 attached with Nikkor 10-24mm UWA lens, on my travel to Beijing.
The advantages of an ultra wide angle lens include its ability to capture the whole scene without having to move too much away from the object until there are too many obstacles from other buildings or visitors. Capturing the whole Taihe hall of Forbidden City in the above photo would not be possible without the Nikkor 10-24mm as I was standing at the edge of staircase down behind me.
Another advantage of using ultra wide angle lens on travel is its short focal length of only 10mm which enabled me to capture night scenes with ease, albeit having to use slow shutter speed of only 1/50s in above photo. I experienced in taking sharp photos with shutter speed of as slow as 1/10s! This is very useful if you don't wish to lug your heavy tripod for whole day of travel!
Here are 2 sample photos taken with Nikkor 10-24mm from 0.8 feet, with both end of its zoom range. It shows the ability of Nikkor 10-24mm lens to capture close-up image of an object with reasonable size to fill up your DSLR sensor. Of course, you won't get 1:1 reproduction as those macro lenses.
Eventhough this chewing gum was shot from only 0.8 feet away, ultra wide angle lens managed to create extra spaciness artificially.
By zooming to the longest focal length of 24mm, you can still capture a nice close up image of an object, with sufficient Depth of Field that is most welcomed in macro shots.
Performance if compared with Tamron SP10-24mm
If I were to compare this Nikkor with my old Tamron SP10-24mm, with the same variable Aperture range of f3.5-4.5 and is already great for travel photography, Nikkor 10-24mm produces images a tad sharper especially at the centre, with less CA distortion, and in a much faster way.
In terms of sharpness, Nikkor 10-24mm ultra wide angle lens is very sharp especially the centre of the frame. The sharpness will only fall off slightly at the far left end corner of the frame as seen in the above photo. Having said that, the Chromatic Aberration issue found in most other ultra wide angle lens is very well controlled for this Nikkor's best DX-format UWA lens, which made the image softness issue at the corner seemed negligible. Most importantly, it focuses as fast as thunder and as accurate as pin point. This is much better than other manufacturer like Sigma 10-20mm f3.5, which eventhough produces slightly sharper image, but with only 50% focus accuracy (as experienced with 3 units from a local authorised dealer).
Conclusion
If you are a Nikon DSLR user who love to travel and take photos, and are willing to invest some decent money on a decent ultra wide angle lens, this Nikkor 10-24mm f3.5-4.5G ED AFS lens is definitely your best choice, due to the facts that it is 100% compatible with any of your Nikon DSLR and is among the best in terms of performance and built quality. 🙂 – Travel Feeder, your ultimate travel photography guide