May Day Air Busan Low Fares to Jeju and more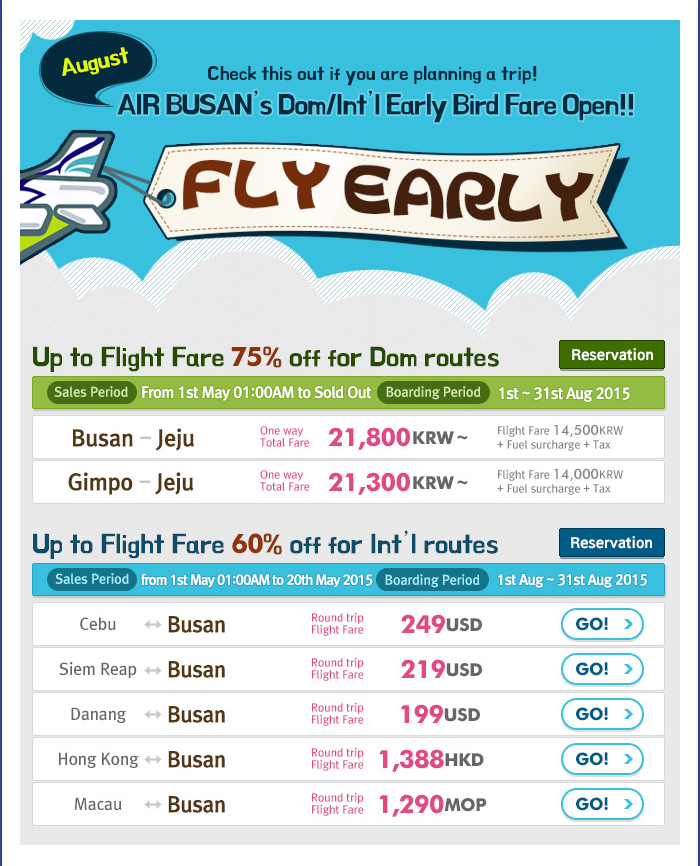 Happy Labour Day to most of you out there! Labour Day, or International Workers' Day, or May Day as it falls on 1st of May in most countries who celebrate, is a public holiday to commemorate the historic labour union movement to advocate eight hours for work, eight hours for recreation, and eight hours for rest.
May Day is either a national holiday or bank holiday in more than 90 countries including Germany, France, Spain, Italy, Belgium, Switzerland, Denmark, Netherlands, Portugal, UK (on Monday 4th May), India, Chile, Peru, Mexico, Uruguay, China, Korea, Taiwan, Singapore, Thailand and Malaysia, except US, Australia, Canada and Japan, where Labour Day is being celebrated in different dates.
So what could we do during this long weekend off our busy routine? Plan your Summer holidays now!
There is a good news to those holiday makers seeking cheapo Korean domestic flight fares in between Busan and Jeju. Air Busan has just opened its door on May day for its August flights reservation. Early fares to Jeju from Busan is as low as KRW21,800 or USD20!
This is great opportunity for foreigners who love to travel to Korea but do not know Korean language, as Air Busan is one of the very few local Airlines who has English version website which compatible with Google Chrome in terms of online transactions! Eastar Jet is the next best option for online booking.
Air Busan Low Fares to Jeju are exciting for FIT travelers who plan to fly (or should fly) in between Busan and Jeju. These 2 cities, besides Seoul, are definitely the travel destinations for travelers. As Jeju is an island to the Southern most of South Korean peninsula, air transport is the best way to connect both lands.
Check out Air Busan website to know more on the cheap fares now!
Happy May Day again for all the travel addicts out there! – Travel Feeder