Top 5 travel attractions of Athens: Acropolis Now?
Guest post by Mike Sowden.
"Athens? Oooh, you must see the Acropolis".
Athens holds a special status in world culture – the so-called birthplace of democracy. (Hey, no pressure). This is part of the universal appeal of Athens, and also in a mild way, its curse. You're going to Athens? Mental imagery: temples, columns, togas, Socrates, Pericles, Delphi, warriors, togas…Acropolis. You're going to the most classically Classical corner of the world and it will be beautiful beyond your wildest dreams. And then you arrive, and you're faced with a thoroughly modern city bulging with contemporary urban life. You blink, you try to adjust, but when you hit the slopes of the Acropolis and join a throng of baseball-capped tourists and squeeze through the Greek-guarded gates into a monument littered with tourists and scaffolding, disillusionment will be kicking in. This isn't what you came to see!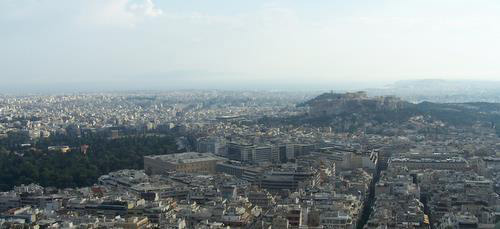 You must see the Acropolis? Absolutely – but if you want to truly get a feel for the Athens of today, save the Parthenon for your second trip. First, see this magnificent ancient monument as the Athenians see it, from down below and from all sides…and make Athens your priority first. There's much to love. Try these:
The Plaka district. In her book Eurydice Street: A Place in Athens, Sofka Zinovieff notes that the Greeks are so terrific at socialising into the wee hours that they sometimes forget to go to bed. Dinner is eaten any time between 10pm and 2am, and some cafes and restaurants stay open until stupid-o'clock and beyond. Plaka is the place to do this – Athens's famous (and famously gorgeous) wining & dining district hugging the lowest slopes of the Acropolis. In 2007 I tried the all-night thing, alternately drinking coffee and beer, sparking up conversations, honing my ear for spoken Greek and rendered myself fuzzy-headed for a week. I wouldn't have missed it for the world.

Monastiraki. When you hit the markets, Athens feels Middle Eastern. Hucksters tug at your arm or fan out their wares on the pavement on a blanket, ready to bundle up and do a runner when the police arrive. Market stalls sell everything (including a lot of football shirts), chaotic and garish and exciting. Architecture is bewilderingly varied and often gorgeous. Poke around the back of the quietest shops and you'll see marvels and wonders. And when you're all commerced out, wander into neighbouring Plaka and plan dinner.

The best way to appreciate Athens is from above – because this city goes on forever. Climb Lykavitos Hill as dusk approaches and look out over the city, and the breath will whoosh out of you. (Plus, you can see the Acropolis from above, and appreciate why it truly commands the city).

Use the Metro whenever you can. It's the best way to get round Athens and see a zillion other things, and it's absurdly, ridiculously cheap – in 2007, 7/10ths of a Euro for 40 minutes of travel (which is pretty much a traverse of the whole inner city). The metro stations all have their own character – for example, Syntagma has walls displaying huge cross-sections of the archaeology discovered when the station was built, now protected behind plate glass. And they're great places for people-watching.

Lastly – and I can't recommend this enough – just get lost. Seriously. Give yourself a free day and a good map, and wander randomly until you've no idea exactly where you are. Then follow the most interesting streets, the most enticing smells, the most curious noises. Athens is one of the safest cities in Europe, and feels it too. You're safe to wander, so find your own Athens; make it yours.
First impressions count. Let Athens show itself at its best, and you'll be friends forever.
Mike Sowden is a freelance travel-writer and blogger. He writes about travel for MNUI travel insurance and for his own site Fevered Mutterings. Catch up with him on Twitter @Mikeachim.