Top 10 local foods to try when visiting Korea
Trying out foods and beverages in a foreign country is always one fun and unique thing that only travelers visiting that country in person have the privilege to experience. Even though we can now able to taste most of the popular foods around the world back in our own nation without needing to travel that far, only that taste of authenticity found in the origin country could leave in your mind forever. This is why I always set aside some money for sampling different local foods whenever I go traveling in a foreign country. And the same could be shared on this travel blog.
Wondering which Top 10 local foods to try when visiting Korea? Here are the selection that I've tried in Korea and certified to be literally great for my recommendation.
1) Samgyeopsal
Samgyeopsal (삼겹살; Korean pronunciation: [samɡjʌp̚sal]) is a popular Korean dish. Commonly served as an evening meal, it consists of thick, fatty slices of pork belly meat (similar to uncured bacon). The meat, usually neither marinated nor seasoned, is cooked on a grill at the diners' table. Usually diners grill the meat themselves and eat directly from a grill. It is often dipped into a spicy pepper paste. Price range from KW11000 – KW15,000 per set.
2) Kimchi
Kimchi refers to often fermented vegetable dishes usually made with napa cabbage, Korean radish, or sometimes cucumber, commonly fermented in a brine of ginger, garlic, scallions, and chili pepper. There are endless varieties with regional variations, and it is served as a side dish or cooked into soups and rice dishes. You will find them as side dishes whenever you order a set meal and they are normally free for refill.
3) Korean Royal Court or Temple cooking
Korean Royal Court or Temple cooking is a full course meal set that comes with many variety of foods being served in small portion. As the name implied,this is how the emperors had in their palaces, and with the special service provided during the meal, the price for a set meal is normally high. In certain restaurants, live dance performance is also available to entertain patrons during dinner. Range from KW25000 to KW60,000, depends on either lunch or dinner.
4) Budae jjigae
Budae jjigae is still popular in South Korea. The dish often incorporates modern ingredients such as instant noodles and sliced American cheese. Other ingredients may include ground beef, sliced sausages, baked beans, minari, onions,green onions, tteok, tofu, chili peppers, macaroni, garlic, mushrooms and other vegetables in season. KW7,000 per set. Tried in NolbooGarden restaurant in COEX Mall, Seoul.
5) Samgyetang
Samgyetang (Korean pronunciation: [samɡjetʰaŋ]) is a variety of guk Korean soup, which primarily consists of a whole youngchicken and Korean ginseng. The dish's name literally translates as "'ginseng chicken soup" in English. Sometimes, the chicken is stuffed with glutinous rice. Price from KW12,000. Tried in Jeju Island.
6) Live seafood Steamboat
Live seafood Steamboat is normally found serving in coastal areas of Korea when fresh seafood are easily available. While the taste of the soup and fresh vegetable are typically Korean and great, boiling those life seafood that are still crawling and moving means freshness can't be beaten and certainly can't be found in your local restaurants. KW35,000 for 2 person or KW40,000 for 3 person. Tried in Jeju Island.
7) Ojingeochae bokkeum
Ojingeochae bokkeum or Fried stirred dried shredded squid is normally treated as a side dish during drinking session or a light meal after work, which can be found in many small restaurants or even road side stalls. Around KW13,000 per dish. Tried at Myeongdong area, Seoul.
8) Saengseon gui
Saengseon gui or simply Fried fish can be found especially in coastal cities such as Busan or Jeju. They taste great simply because the fish are fresh everyday from the nearby fresh market. You just pick whichever half fried fish you like and the vendor will re-fry them and serve with kimchi, rice or soup. KW7,000 per set. Sold at Jagalchi fish market, Busan.
9) Pojangmacha selling Korean snacks
Pojangmacha is a mobile road side stall selling various snacks in Korea. There are many varieties which could be either national or regional. Make sure you try some of them in person and experience the local culture of eating by standing and drinking soup by scooping it yourself  from the vendor's cooking pot. Price starts from KW3,000.
10) Banana milk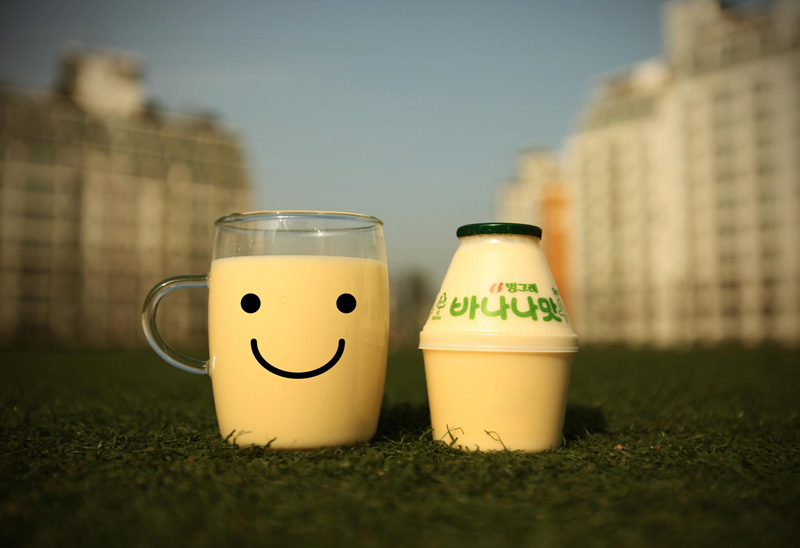 Binggrae banana milk is so popular in Korea that it is considered a national drink. Introduced in 1974, Binggrae brand of banana milk has become a beverage that every visitor to Korea must give it a try. The banana flavoured milk tastes great and has set its sights on the next generation, having the ever-popular Girl's Generation (소녀시대) and Junho being their ambassadors. Check their Bingbalove fan page and you will know why. Price is KW1,200 per bottle and sold at all convenient stores.
Off course there are also other local Korean cuisine that could be great to try as well. If you have other Korean foods that you tasted in Korea and wish to share them here, please comment below so other travelers could benefit and I will try them out on my future Korean trips! 🙂 – Travel Feeder