My Korea tour Day 3 – Busan travel guide part 1 to Haeundae Beach
Let's continue my travelogue to Korea. We left Seoul on our 3rd day in Korea for the second largest city of Korea, Busan. Not for long off course. We would go back to Seoul again on the last 2 days to cover other attractions around the capital city. After our exploration to Dongdaemun in Seoul the day before, we left our hotel in Myeongdong and purchased the KTX train tickets at Seoul Station. KTX is the regional bullet train in Korea. There are frequent trains serving the 2 cities every 15 minutes so no advance reservation is normally needed. Fares is KW53,300 or USD50 per trip for Economy class.
After a 2.5 hour journey, we arrived at Busan train station. It is a large station which is also the Southern transportation hub of Korea. From here, we started our Busan travel.
We were not going to stay around Busan city centre, albeit we usually do that. For Busan, for this instance, the best place to stay is in Haeundae Beach, the getaway paradise for both locals and foreigners.
Off course, you can still stay around Busan station as there are also attractive places to wander about nearby, such as the Busan Tower, Lotte Shopping mall and the Nampo Jagalchi market.
We chose Haeundae mainly for the beach, night activities and also the many love hotels available in the area.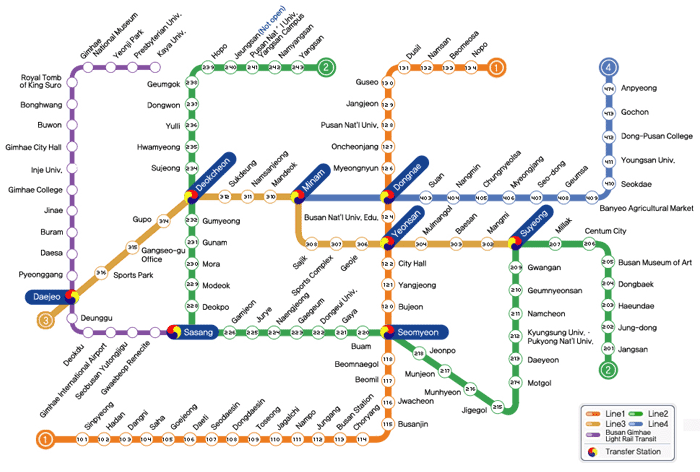 By taking the Subway or Metro Line 1 and change to Line 2 at Seomyeon station towards Jangsan direction, we came to Haeundae station in about 40 minutes. The hotel we booked is called WA Motel which is 5 minutes walk from the subway station. Motels are mushrooming in this area, which indicates that Haeundae is popular among domestic Korean couples. In fact, Haeundae is arguably the most popular beach in South Korea.
We checked into our motel. As usual, the receptionist is available only when calling upon. I did not take any photograph in the motel room. You can check it out on HotelsCombined.com. It was good being a motel with large room and bathroom with jacuzzi, though I think our motel in Kyoto was far better.
Haeundae Beach is just 10 minutes walk down the road. It was early Summer or late Spring when we were there, so there were not many people around if compared with the peak season when thousands of people flocked to the beach.
In August, upwards of 700,000 people nestle under a canopy of a Guinness record 12,000 parasols along the 1.5 km beach. A lot of bars are also along the beach including Geckos, 88 in Miami, Sharkey's, Rock n' Roll, U2 and Elune.
Haeundae Beach is a rough sandy beach with yellowish color.
While motels concentrating around the train station, star rated and casino hotels are lining up along the beach.
Young and sexy Korean are seen here.
Foreign visitors also love Haeundae Beach very much.
Further up to the hill there are many luxury resort homes being built.
When we were there, it was the time for Summer beach festival. A famous sand building competition was going to take place on Haeundae Beach. We saw hills of sand were being piled up on the beach.
Haeundae Beach has a cove shaped beach line.
A monument describing the history of Haeundae.
We went further West to the other side of the beach, where the Westin Chosun Hotel is. Visitors can stroll the pathway along the edge of the sea enjoying the cool breeze. There is the statue of Princess Hwangok. The legendary mermaid looking statue reminded me of the mermaid statue in Copengahen.
After the statue, visitors can walk up to the Dongbaek Park where plenty of breathtaking scenery, combining nature, history and some awe-inspiring man-made achievements can be enjoyed especially in the morning.
We did not walk that far as the sun was setting fast. We walked home instead for a brief rest and to take bath before continuing our night exploration to another action packed weekend destination of the local Korean. Guest where? Gwangalli Beach!
I will continue my Busan travel guide part 2 later. Watch this space for updates! – Travel Feeder