Discovering Paris: 5 Free Hidden Gems
Think you've seen Paris? Think again! It's time to explore beyond the Eiffel Tower and the Louvre and find your own hidden piece of Paris. There is always something new to discover… and it doesn't even have to cost a cent. Make these five free attractions a must on your Paris visit.
1. Shakespeare & Co. Bookshop
Tucked away on the Left Bank, across from the bustle of the Notre Dame, sits the Shakespeare & Co. bookshop. Since its humble beginnings in 1919, the shop has been a regular hang-out for artists and writers, including Hemingway, James Joyce and Ezra Pound. Over the years it has become known as a refuge for budding writers, who often work and even sleep in the store, and visitors will see beds tucked away alongside bookshelves. Downstairs is the jumbled bookstore, packed floor to ceiling with books new and old; upstairs serves as a reading space for those who just want to sit and lose themselves in literature.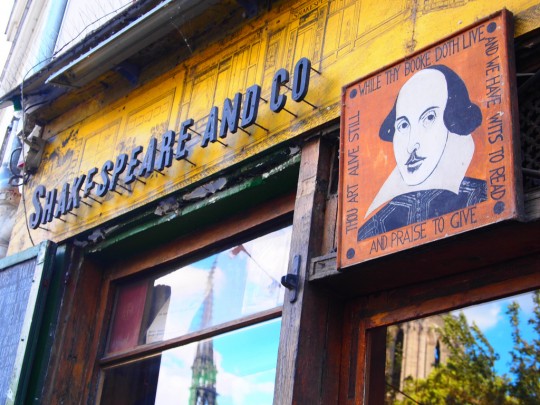 2. UNESCO gardens
World organisation UNESCO (United Nations Educational, Scientific and Cultural Organisation) has its headquarters in Paris, and it is here that you will find the Garden of Peace. This Japanese-style garden was donated to UNESCO by the Japanese government in 1958. Covering 1,700 square metres, it is filled with cherry trees, lotuses, bamboo plants, streams and ponds. There is also a meditation space, and of course, plenty of pathways to walk amongst it all. This is as much a sculpture as it is a garden; the aim is to create a space which envelopes its own world, where visitors can find peace, tranquillity, and creativity.
3. Maison de Victor Hugo
Victor Hugo was a man of many roles – statesman, activist, essayist, poet – but it was his work as novelist which he is best known for. The author of Les Miserables and The Hunchback of Notre Dame (or Notre-Dame de Paris, to give it its French title), moved into this house in Place des Vosges in 1832 – when he was just 30 – and remained there until his death in 1848. So admired was Hugo that when he died, more than two million people came to his funeral. Even today the names of many Paris hotels and streets commemorate his work, and his home has become a tribute to his life and legacy.
4. Picpus Cemetery
The cemeteries of Paris are far from gloomy; instead they are places of intricate sculptures, wild gardens, and ornate tombs, and here you can visit the resting places of many famous and creative people. While most tourists head to famous Pere-Lachaise cemetery, there are other, lesser-known places worthy of a visit. Passy cemetery is located in the 16th arrondissement, and here you'll find the tombs of painters, aviators, writers, actresses… even the last emperor of Vietnam is buried here. Surrounded by chestnut trees, and with a joyful view of the Eiffel Tower, this is a beautiful place to escape the crowds and perhaps even feel inspired by those who rest here.
5. Porte de Vanves flea market
Many tourists will flock to the scenic market at Saint-Ouen, but the Porte de Vanves offers substance over style – this is where Parisians come to buy. The best time to go is Sunday morning when it's less busy. Take your time to browse amongst antique dishes, vintage clothing, jewellery, artwork and all kinds of fascinating trinkets. This is a great place to pick up a chic souvenir – an antique perfume bottle, or perhaps a necklace? You might want to stay at one of the hotels in the 14th arrondissement so you can get there as soon as the market opens. It finishes at 1pm, so the best bargains get snapped up in the early morning. 🙂 – Travel Feeder, your ultimate travel photo blog
About The Author
The author is an avid traveler and photography hobbyist who loves to share with others his travel and photo-taking experience in many popular tourist destinations around Europe, Asia and Australasia. Read the exciting stories with many photos captured on his journeys.